The Community Room at Universal Preservation Hall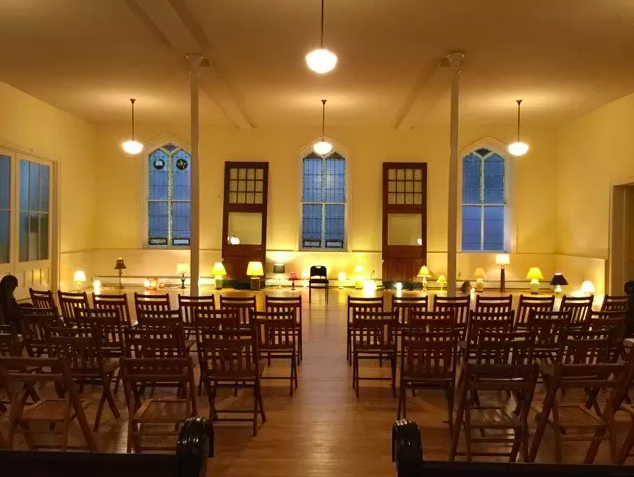 Throughout its long history, says Campaign Director Teddy Foster, Universal Preservation Hall has been a community gathering space. It was built, in fact, as a venue that could host speakers like Frederick Douglass, Theodore Roosevelt and William Jennings Bryan in addition to being a Methodist church.
The ground floor Community Room will stay in touch with that sense of collaboration and purpose.
UPH patrons will enter through a new glass atrium on the building's east side, and filter through the sunlit, stained glass shimmer of the Community Room as they move upstairs to the Great Hall for performances. On non-show dates, the Community Room will be just that, a public space that can be rented and reserved for everything from community and school groups, to symposia and craft fairs and, naturally, lectures and presentations.
Original hardwood floors run the length of the 2,800 square foot room, and a newly-installed sound and light system will be adaptable to any purpose. A catering kitchen sits just off the northwest corner, and a concession and bar area are within the Community Room itself.
Foster points out that over the past few years, as UPH has prepared for its historic renovation, the Community Room has already hosted major events, including a successful summer jazz series which ran for three years, featuring the likes of the Brubeck Brothers, Giacomo Smith, Howard Fishman and Saratoga Springs mainstay Chuck Lamb.
In addition to being a warm haven for the city's annual Chowderfest, the Community Room is also the birthplace of the popular Rochmon Record Club. Entrepreneurs like Fingerpaint, Palio and Pitney Meadows Community Farm have all hosted corporate meetings in the amenable, accessible space.
Foster sees a special purpose for the Community Room, which will be made up to date with digital screens and IT services, as a gathering point for the region's cultural institutions.
"This is a space," she says, "for collaboration. It's a space where varied groups can come together and make things happen. I love the fact that UPH historically has been a safe haven for ideas and a blank slate for people to express those ideas. It will continue to be such, and the Community Room is the gateway for those notions to come to the fore even today."