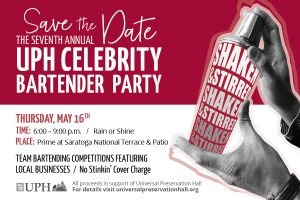 Shaken & Stirred Celebrity Bartender Party is an annual fundraiser for UPH. Local business teams compete against each other, bartending for the most tips, all of which go to support UPH. The team that raises the most during their shift wins! All proceeds from Shaken & Stirred go directly to UPH.
For information on this year's Shaken & Stirred, follow UPH on Facebook.
Please help us to thank this year's sponsors for their support!
GOLD LEVEL SPONSOR – Coalesce MedCom
Need a Free Cab Ride Home from Shaken & Stirred? UPH is partnering with Martin Harding & Mazzotti, LLP to promote safe driving and make sure that everyone gets home safely. For the Free Cab Ride Home call-in number and more information, click here.