Ordering take-out? Order from Augie's Restaurant or Augie's To-Go and turn your meal into $$$ for UPH!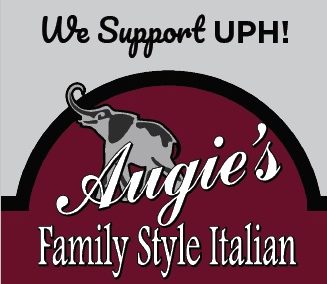 On specified Mondays and Wednesdays, 10% of your to-go order from Augie's Family Style Italian Restaurant & Take Out (17 Low Street, Ballston Spa, 518.884.8600) and Augie's Family Style Italian To-Go (223 Lake Ave, Saratoga Springs, 518.580.8646) will be donated to Universal Preservation Hall.
Invite your friends, enjoy your dinner and thank you for supporting the development of UPH into a year-round performing arts and community events center. We look forward to seeing you at the grand opening in 2019! Please be sure to order from the appropriate location on the date listed below to have your order benefit UPH.
Augie's To-Go, Saratoga, Wednesday, March 14
Augie's Restaurant, Ballston Spa, Monday, March 19
Augie's To-Go, Saratoga, Wednesday, March 28
Augie's Restaurant, Ballston Spa, Monday, April 2
Augie's To-Go, Saratoga, Wednesday, April 11
Augie's Restaurant, Ballston Spa, Monday, April 16
Augie's To-Go, Saratoga, Wednesday, April 25
Augie's Restaurant, Ballston Spa, Monday, April 30
Augie's To-Go, Saratoga, Wednesday, May 9
Augie's Restaurant, Ballston Spa, Monday, May 14
Augie's To-Go, Saratoga, Wednesday, May 23
Augie's Restaurant, Ballston Spa, Monday, May 28
Augie's To-Go, Saratoga, Wednesday, June 6
Augie's Restaurant, Ballston Spa, Monday, June 11
Augie's To-Go, Saratoga, Wednesday, June 20
Augie's Restaurant, Ballston Spa, Monday, June 25