Eddies Hall of Fame Induction Ceremony - Class of 2022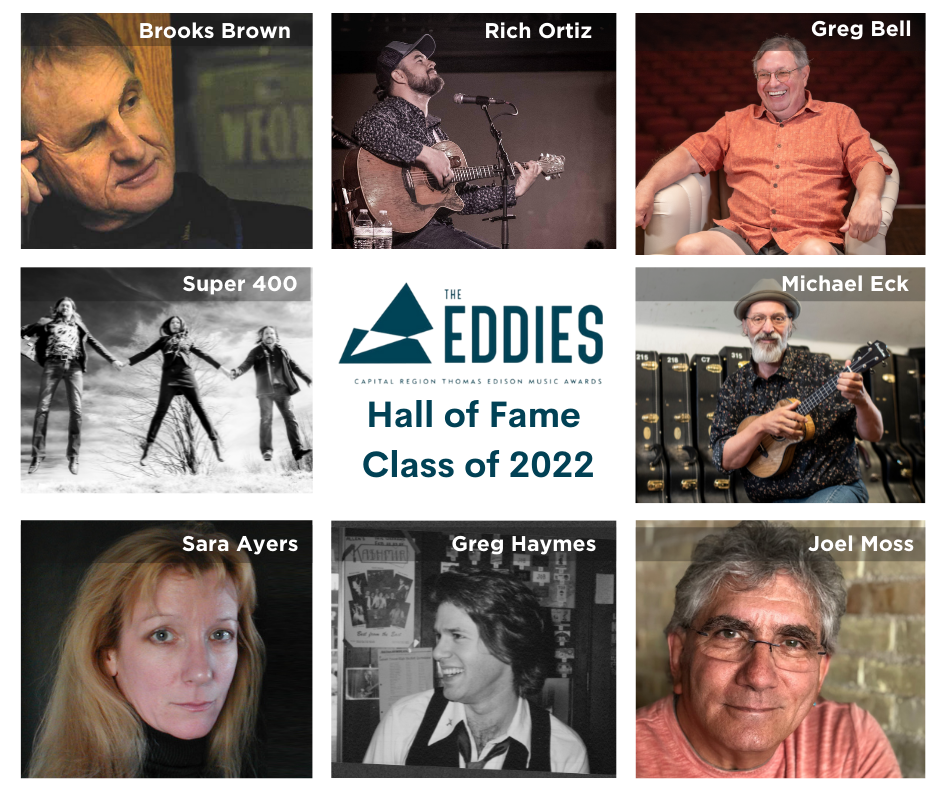 Celebrate the legendary careers of Capital Region artists
and contributors to the local music scene
The Capital Region Thomas Edison Music Hall of Fame is holding the induction ceremony for its class of 2022 class – honoring eight legends of the local music scene – at 6 p.m. Tuesday, June 7 at Universal Preservation Hall.

Joining 16 individuals and groups inducted since the Hall's founding in 2019, are ambient music artist Sara Ayers; music promoter Greg Bell; the late Brooks Brown, founder of independent radio station WEQX; Michael Eck, a solo artist, member of several musical acts, and a producer and music critic; the late Greg Haymes, founder of the publication Nippertown and lead vocalist of the Eddies Music Hall of Fame band Blotto; Grammy- and Academy Awarding-winning music producer Joel Moss; solo artist Rich Ortiz; and the Troy rock trio Super 400.
The ceremony will feature live music, a presentation of a brief video about each artist, and acceptance speeches. Tickets are $50 and are now on sale at universalpreservationhall.org; admission includes complimentary hors d'oeuvres. A bronze plaque is placed on the Hall of Fame wall at UPH for each inductee, and a video about each inductee will play there in a loop with past, present, and future recipients.
"This group has many things going for it professionally but first and foremost, it is staying power," said Eddies Music Hall of Fame founder Jim Murphy. "All the living are two, three, four or more decades into their career and just as relevant as ever. And our two inductees who are no longer with us, the organizations they left behind remain vital to fans of today's local music scene."
"It's an emotional evening," said Murphy. "There is great storytelling and so much appreciation and love. You don't have to have any relationship with these individuals to come away feeling blessed to hear their stories and experience the atmosphere in the room."
The Eddies Music Hall of Fame honors Capital District residents who have made outstanding contributions to, or significant impact on the evolution, development, and perpetuation of the music industry. These contributions can be national, regional, or local. Nominees must have been born in the Capital Region and / or have lived here and / or worked here professionally. As a rule, nominees must have been active in the music industry for a minimum of 20 years. Exceptions are made in the case of a candidate's premature death or due to outstanding service or special circumstances.
More information on the inductees and the Eddies Hall of Fame at theeddiesawards.com.